Excerpts from the article:
Biden has ordered the the construction of the wall at the southern border to be halted- because racism or something.
But they want to build a wall at a different location-  at the Capitol building.
But I thought walls don't work! [LFC Comment: You are being gaslighted!]
Breitbart has more:
The United States Capitol needs a "permanent" security wall around it to protect members of Congress, Acting U.S. Capitol Police (USCP) Chief Yogananda Pittman says.
In a statement on Thursday, Pittman said the security at the Capitol building must include a "permanent fencing" barrier — a similar barrier to the one halted by President Joe Biden's administration at the U.S.-Mexico border.
"As I noted earlier this week, even before September 11, 2001, security experts argued that more needed to be done to protect the U.S. Capitol," Pittman said in a statement. "In fact, a 2006 security assessment specifically recommended the installation of a permanent perimeter fence around the Capitol."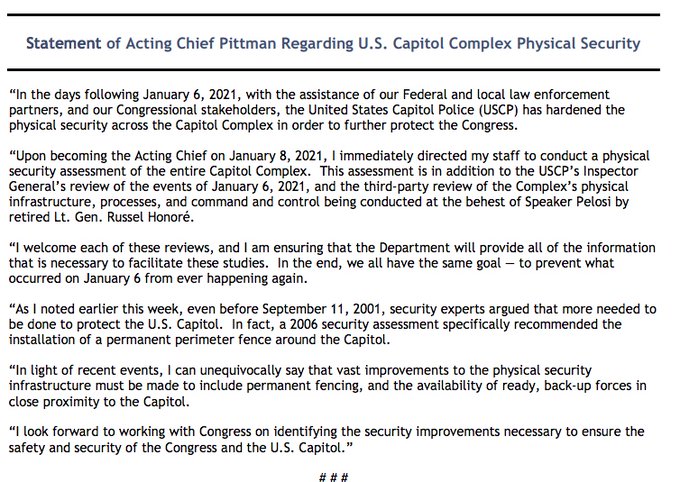 Let that sink in for a moment, Biden administration put a stop to building a wall to protect our nations borders, but it wants a permanent wall around the Capitol building to "protect" congress.
The safety of our nation and the citizens is not a priority, however, a fence to make them feel safe from what they deem as "citizens who are domestic terrorists" is now a must.
House Speaker Nancy Pelosi (D-Calif.) has tasked retired Lt. Gen. Russel Honoré to conduct a separate review of Capitol security, and met with him Thursday to hear his initial assessment, Washington Post reports.
Pelosi is acting as if she can do as she pleases, she has had additional National Guard soldiers remain in D.C. all in the name of "protection" and its clear she is pushing the agenda even further with the fence issue.
The Biden and Harris administration are turning our nation into a 3rd world nation ruled by Marxism and Communism.
This is all happening as such a rapid pace that it is mind-blowing how easily and how quickly they are accomplishing their agendas.
To be able to bring citizens together and bring peace to our nation, it will take literally the opposite of what the democrats are doing.
*****
---
---
Categories: Congress, Uncategorized