LFC Comments: We hope you are paying attention to what is happening in the rest of the world. The United States is behind the curve in the implementation of the tyranny in other parts of the world. The Communists in the Democratic and Republican Party know that they must accelerate their control before November 2022.
*****

By Jon Fleetwood / November 19, 2021
"They might want to have a word with their history teacher."
QUICK FACTS:
Telegraph columnist Allison Pearson reported on Wednesday a U.K. school is instructing students to "wear a Yellow Badge" in order to identify those students from other students as having received a mask exemption.

Pearson tweeted a screenshot of an email she says is from the school explaining the school's decision to reintroduce mask-wearing in the classroom.

The email goes on to explain that mask-exempt children must don a yellow-colored "Badge."

"Those pupils who were exempt from wearing a mask last academic year will once again be exempt and should wear a yellow badge to indicate this," the email reads.

Summit News pointed out the yellow badge is "historically understood to symbolize a 'badge of shame' and was imposed on Jews at numerous points throughout history to denote them as ethnic or religious outsiders." "While no one is comparing the treatment of Jewish people in Nazi Germany to kids being forced to wear yellow badges," the article clarified, "the use of such a symbol is still odious and morally bankrupt."

Pearson concluded her tweet, asking, "Does the school have teachers who know their history?"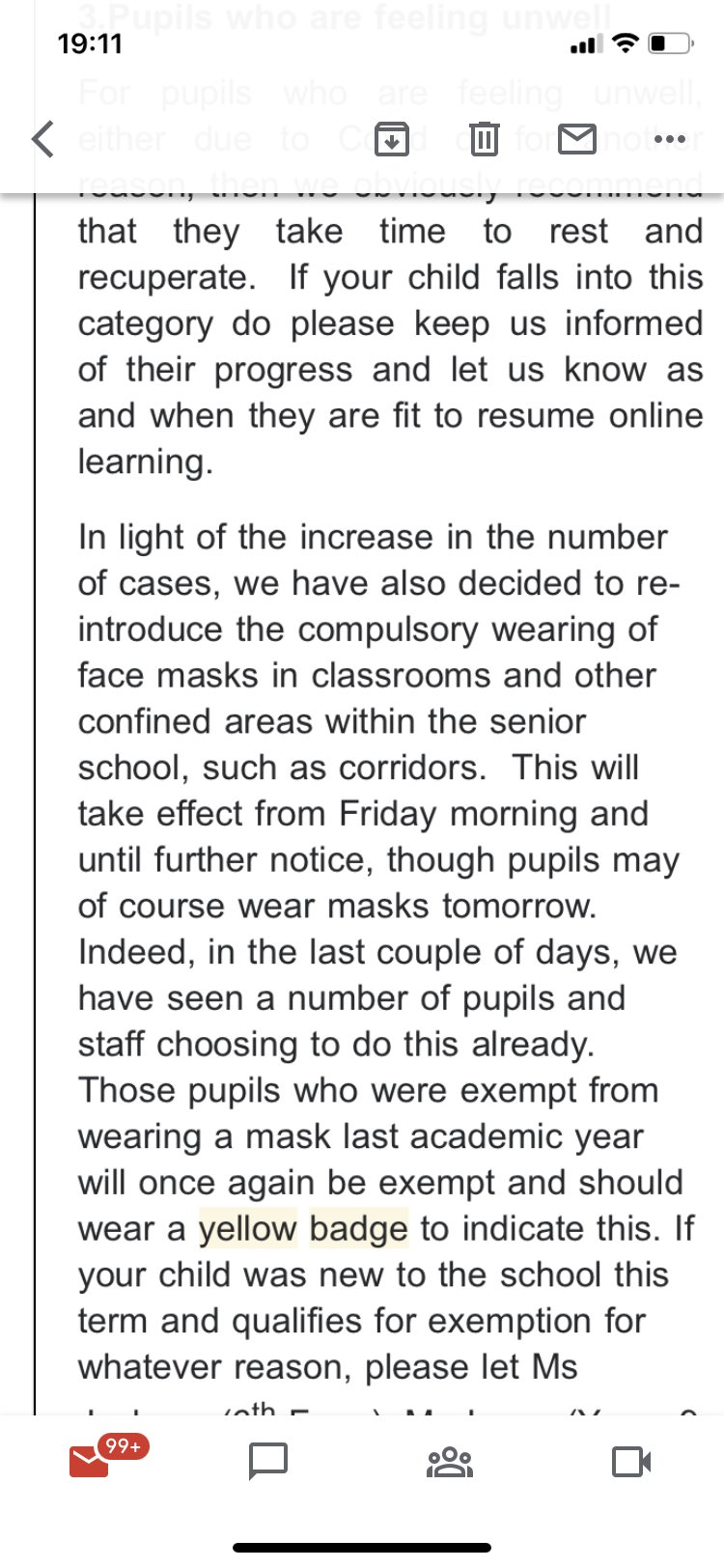 BACKGROUND:
Australia implemented more strict lockdown measures for the unvaccinated on Monday. About two million unvaccinated Australians "will only be allowed to leave home for limited reasons, like working or buying food," the BBC reports. The Australian government "says police will carry out spot checks in public spaces to determine the vaccination status of individuals, and issue fines to those caught breaking the rules." Austria's health ministry "says anyone who violates the lockdown for the unvaccinated could be fined €500 (£426; $572), while a penalty of €1,450 could be incurred for refusing to participate in checks."

Austria and Germany have also implemented severe lockdown measures for the unvaccinated. "Testing for vaccinated and unvaccinated alike would become mandatory in some regions once hospitalizations reach a given threshold, German authorities said on Thursday. Vaccinations will now be made mandatory for healthcare workers," according to The Wall Street Journal (WSJ). Unvaccinated Austrians are "excluded from entertainment venues, restaurants, hairdressers and other parts of public life in Austria," CNN reports. But now Austria's lockdown measures apply to "all those age 12 and older."

Measures have also been introduced in Croatia this week, "including obligatory vaccination or testing for employees, have prompted protests, as well as criticism from President Zoran Milanovic, who is elected independently of the government," notes WSJ.
Jon Fleetwood is Managing Editor for American Faith and author of "An American Revival: Why American Christianity Is Failing & How to Fix It."
*****
---
---
Categories: World News