Ohio's AG Dave Yost files an Amicus Brief asking the Supreme Court to Take and Hear the Texas Case – and then tells the Court why they should RULE AGAINST YOU, Trump and the Constitution!!!!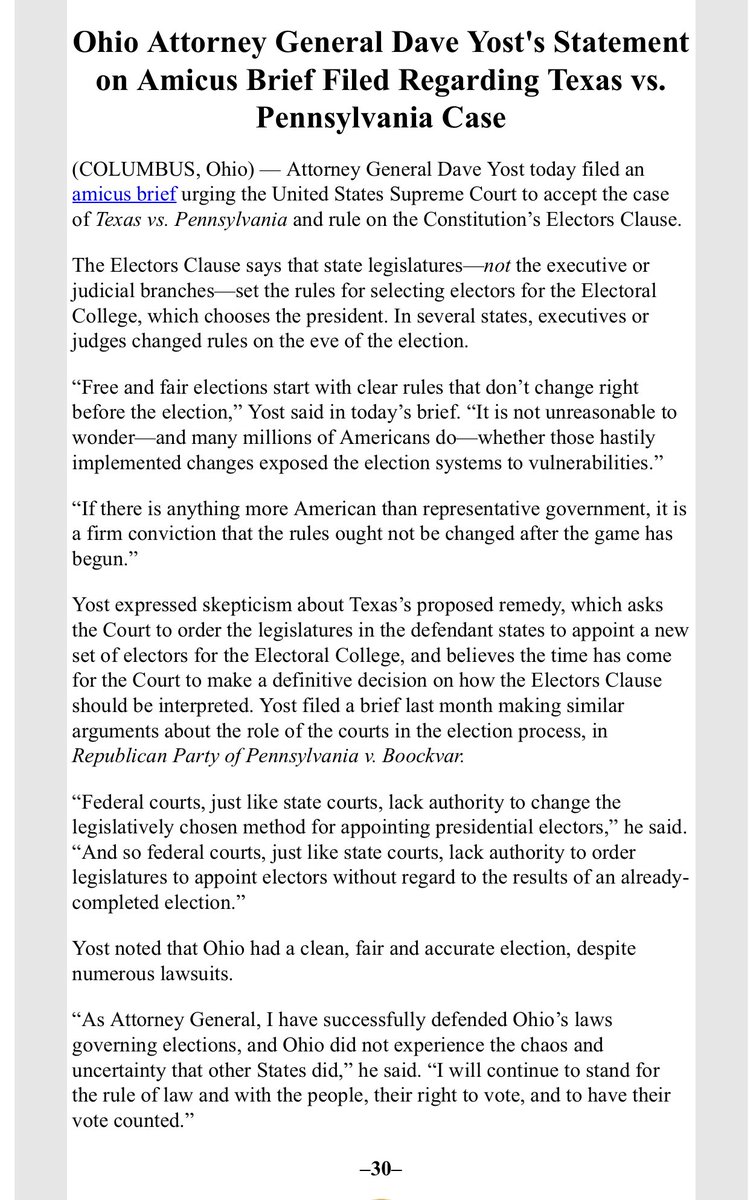 Ohio AG Dave Yost files brief criticizing Texas' lawsuit challenging Biden win
Updated 2:18 PM; Today 1:45 PM
By Jeremy Pelzer, cleveland.com
COLUMBUS, Ohio—Attorney General Dave Yost on Thursday filed a legal brief with the U.S. Supreme Court opposing a Texas lawsuit seeking to effectively delay the Electoral College from voting Joe Biden the next U.S. president.
*****
Updated 12/11/20 3:21 pm
Thanks to Tom Niewullis for sending us this reply from the Ohio Attorney General's office.
Dear Constituent: 
Thank you for contacting the Ohio Attorney General's Office about the election-related lawsuit filed with the U.S. Supreme Court by the Texas Attorney General on Tuesday. This lawsuit challenging the selection of presidential electors in Pennsylvania, Georgia, Michigan and Wisconsin has exposed an unanswered question of constitutional law. Because of this, the Ohio Attorney General's Office has filed a friend of the court brief urging the justices to issue a ruling that clarifies the U.S. Constitution's Electors Clause.
The Electors Clause says that state legislatures — as opposed to the executive or judicial branches — set the rules for selecting electors for the Electoral College, which chooses the president.
But in several states, executives such as state election officials and judges changed voting rules on the eve of the recent presidential election.
The Ohio Attorney General's Office believes that free and fair elections start with clear rules that don't change right before the election. So it is not unreasonable to wonder — and millions of Americans do — whether those hastily implemented changes exposed those election systems to vulnerabilities.
But if the Electors Clause bars non-legislative authorities from changing election rules, then the Texas lawsuit itself may be seeking an unconstitutional remedy, because it asks the Supreme Court to order the legislatures in the four defendant states to appoint a new slate of presidential electors.Therefore, in its brief, the Ohio Attorney General's office calls on the Supreme Court to make a definitive ruling on how the Electors Clause should be understood and applied. The Ohio Attorney General's Office is committed to protecting Ohioans' right to vote and is proud that our state conducted a fair and accurate election. We appreciate receiving your comments and suggestions. 
Sincerely,  
Constituent Services and Outreach
Office of Ohio Attorney General Dave Yost
Toll Free: 800-282-0515
---
---
Categories: Community Activism, Uncategorized